Flavors designed for the Food, Beverage and Pharmaceutical sectors.
We count with two creation units:  SAVORY and SWEET, which allows us to offer our clients aromas according to their needs in record time.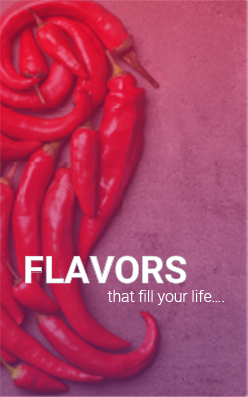 We offer natural flavors, nature-identical (N.I.) and stable artificial flavors for applications in: drinks, dairy, confectionery, baked goods, desserts, ice cream, cereals and pharmaceutical products.
Specialists in the development of color + flavor + cloud emulsions, for beverages and soft drinks.
Reaction flavors, off flavors, highlighters and specialties for the snack, meat and pet food sectors.
Texturizers for drinks and ice cream categories:
Fragrances developed for the sectors of  home care, personal care, pet care, olfactory marketing and fine fragrance that guarantee performance, versatility and an adequate incorporation in the final product.
Fragrances that evoke unique sensory experiences for personal care, feminine, masculine, unisex and children's cosmetics.
We constantly strive to create fragrances that go in line with the latest trends in fine fragrance and splash. We have a wide range of own compositions and fragrances inspired by perfumes from the market.
CLOTHING AND HOUSEHOLD CARE
Innovative profiles for multipurpose cleaners, air care and hypochlorite-type fragrances, peroxides, detergents and softeners; which seek to create pleasant environments while taking care of the textiles.
Development of fragrances that produce sensory stimulation in customers; designed and selected to transmit brand values and to achieve a bigger bond between brands and users.
Water-soluble dyes, certified lacquers, disperse dyes and specialties for the food, pharmaceutical and cosmetic industry.
It is any color, pigment, or other substance obtained from plant, animal, or mineral sources. They are able to color food, medicines and cosmetics.
Pigments that work by dispersion and are generally used to color powdered products.
Authorized Distributor of:
Pigments that are not found in nature are obtained by chemical synthesis. They have great staining power and good stability.
Locally, we develop dispersions for confectionery coatings; a solution that allows the customer easy handling of the product inhouse.
Creates and develops high-level additives (FLAVORS, COLORS (DYES), AND FRAGRANCES) to be used in different products to improve animal health, performance and welfare.
We develop sweet, fruity, dairy and salty flavors, as well as colorants to be used in different applications such as: mineralized salts,  premix solutions, balanced foods, and other products for animal nutrition. Also, those intended for veterinary medications for oral use.
ANIMAL WELFARE (PET CARE)
Collections of cosmetic fragrances designed for the well-being of your pet and its environment.